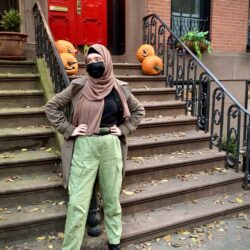 Majorca Bateman-Coe
New York, NY

My name is Majorca Bateman-Coe and I am currently a Film and Media Studies major at Columbia University, and I hope to graduate in 2022 with… a degree. I recently transferred from Stanford University's undergraduate Film and Media Studies department, and between this transition I am considering pursuing a concentration in screenwriting.
I love making art and have lately gotten into animation and exploring animated films more, which is something I would like to pursue in the future. I have an interest in studying world religions in my free time, as well as practicing my own to the best of my ability. I also love reading, binging media criticism videos as a relatable form of procrastination, and trying to start my own YouTube film/media/academia/religion/whatever channel. Oh, and I'm obsessed with 8-bit video games such as Earthbound™ and Pokémon on GameBoy™. I also collect Tamagotchis™.
Despite a lot of my silly preferences in film and media, I am hard to please. What attracts me to film and media is a kind of fear or the potential for some kind of adrenaline rush or shock value with artistic merit. This would explain my love for horror, especially non-CGI special effects. Cronenberg is an idol, along with many other artists and craftsmen who sought to bring the imagination into a gnarly reality. I try my best to offer an unconventional approach to film criticism, relishing in the good of the most terrible films I can find and giving them, perhaps, a bit too much food for thought. I've grown up in the city with two unconventional parents, and so I'm very antiquated with film and media's potential funkiness.
If we're getting to the imitates, here they are and thanks for your patience. On my list of beloved films are Peter Jackson's Braindead/Dead Alive!, Ivan Retiman's Junior, David Lynch's The Elephant Man, Bong Jon-hoo's Okja, George Miller's Mad Max: Fury Road, Satoshi Kon's Tokyo Godfathers, Michaël Dudok de Wit's The Red Turtle, The Coen Brothers' The Big Lebowski, Jon Favreau's Elf, and Raja Gosnell's Scooby Doo 2: Monsters Unleashed. As you can tell, there's not enough female filmmakers on my list, but I hope to find more and maybe even take on that role one day.
Published Reviews
Authors from the same state